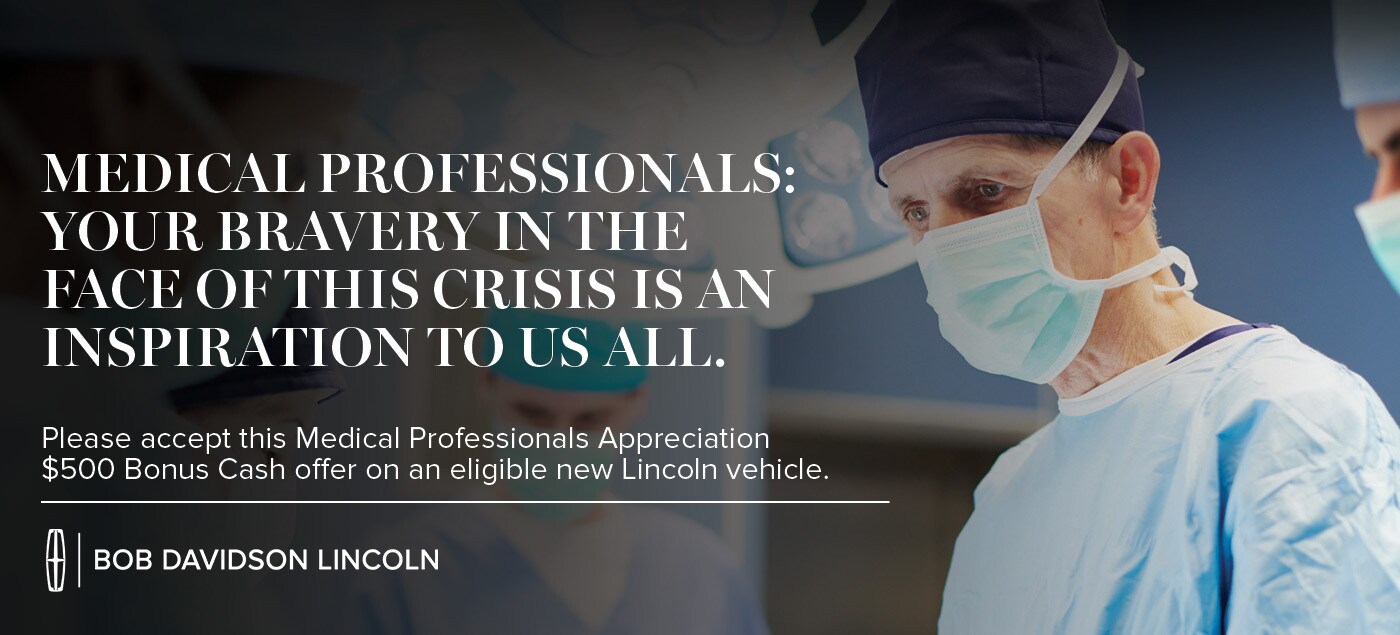 WHAT IS THE MEDICAL PROFESSIONALS BONUS CASH?



Bob Davidson Lincoln is proud to announce the $500 Medical Professionals Appreciation Bonus Cash incentive
to be applied toward a new Lincoln vehicle as a special thank you to the medical professionals working hard to keep our communities healthy and safe. 
This $500 Medical Professionals Appreciation Bonus Cash offer may be used along with many of our other incentive programs to help you save even more on your new vehicle.* 
ELIGIBILITY REQUIREMENTS
Visit the U.S. Bureau of Labor Statistics Website Here
 for a complete list of eligible occupations.
In addition, we are also including the following occupations to be eligible for this incentive:
 Advanced Registered Nurse Practitioners (ARNP), Registered Nurses, Licensed Practical Nurses (PN/LPN), Nursing Assistant, Licensed Practical Nurse, Nurse Practitioner, ER Nurse, Home Health Nurse, Medical Assistant, Doctors, Cardiologist, Oncologist, Pediatrician, Surgeon, Therapist, Pharmacy Technician, Home Health Nurse, Clinical Laboratory Technician, Radiologist, Physical Therapist, Home Health Nurse, Clinical Laboratory Technician, Radiologic Technologist, Health Information Technician, Clinical Laboratory Technologist Occupational Therapy Aide, Respiratory Therapist, Family Practitioner, Phlebotomist, Physician Assistant, Nursing Assistant & Orderlies, Cardiovascular Technologist, Medical Equipment Preparer, Nurse Anesthetist, Anesthesiologist, Athletic Trainers, Chiropractors, Dental Hygienists & Assistants, Dentists, Massage Therapists, Veterinary Doctors, Veterinary Assistants and Technicians, Hospital General Staff, Hospital Receptionist, Healthcare Administrators, Healthcare Administrative and Clerical positions.
First Responders
Please click here for information about our First Responders Appreciation Program.

GENERATE YOUR CERTIFICATE
Once you have confirmed your occupation is eligible for this $500 Medical Professionals Appreciation incentive, please visit Lincoln Salutes Those Who Serve Here or click on the banner above to enter the required information to generate your bonus cash certificate. This verification requires an account through ID.me. Please contact our team directly at 410-661-6400 if you have any questions or need assistance navigating the website. 
 *$500 Medical Professional Appreciation Bonus Cash (PGM#37636) available to customers in an eligible medical professional occupation and eligible household members. Employment verification required by visiting Lincoln Salutes Those Who Serve
 through an account with ID.me. Offer valid on new eligible 2019/2020 Lincoln vehicles. Vehicle restrictions may apply. May be used with other Lincoln public offers. Medical Professionals Bonus Cash may not be eligible to be combined with all other incentive offers or programs. 
Restrictions apply. 
See dealer for complete details. Offer valid through 09/30/2020. 
QUICK QUOTE